Whether you're a veteran at operating a digital store or you're an offline business dipping your toes into the digital marketing ocean, Google Analytics should be a vital piece of the puzzle.
Analytics collects and helps you sort through the mountains of data points you receive from the moment a visitor first clicks on an ad or an email link until they make their final purchase.
Last year, Google launched an upgrade to Google Analytics, being dubbed Google Analytics 4.
So, what happened to GA 1-3?
The initial version of analytics launched in 2005 was the platform developed by Urchin Software called Urchin WebAnalytics. Google rebranded it and started offering it to all users in August 2006.
Google then launched the asynchronous tracking code feature, which promised more accurate measurement of activity on a given website. The tracking code was the first that could be installed within the <head> tag of a site.
Then in 2011 came the Universal Tracking Code. The Universal code was unique in that it gave better cross-platform tracking.
As of October of 2020, Google has opened up a whole new tool for tracking, that runs alongside the Universal Analytics tracking, as it fundamentally changes the way that we look at tracking website data in some key ways.
So, what's in GA4?
Google Analytics 4 features key upgrades that help you gain an edge in a few key areas:
More comprehensive data controls
Better Google Ads integration
Smart Insights improvements
Improved cross-platform integration
Event tracking
Data controls
The first key area where GA4 takes a major leap over Universal Analytics is in helping you control how much information you collect from your website or mobile app users.
With privacy concerns being a major concern for marketers, it's important that every website owner only collect the information they will use, and GA4 gives you the controls to do it.
GA4 allows you to control the data in your account, choose whether data is used for ads personalization, or remove data altogether from analytics.
How it helps you win with Ecommerce
As an eCommerce business, you must be mindful of the regions you sell to. Every region has a governing body that regulates the data collected and the necessary disclosures. Learn more about data collection.
The list is quite extensive, but it includes:
Opting out of Google Signals
Accept or reject data processing terms
Disable client-side data collection
Analytics opt-out
Data retention settings
Control ads personalization
Submit a request to delete data either for a user, for a time period or for an entire property
If you're an eCommerce business, you should be aware of the regions you're selling into and adjust your privacy settings and disclosures appropriately.
Google Ads Integration
A remarketing audience is a list of users who you keep who are likely to convert. They are easier to capture than an email audience because they have been captured simply by landing on certain pages of your site. These users can be targeted in remarketing campaigns in your ad accounts.
You can specify the audience criteria directly in Google Ads by either choosing from a preconfigured audience definition or creating a new audience definition.
But when you link your Ads account to Google Analytics, you can even import a segment.
The synergy works in the opposite direction as well.
When creating remarketing lists from within GA4, you can use Analytics data, such as session duration. And turning this on is as simple as enabling remarketing from the Admin setting in Analytics.
Building remarketing data from within Analytics is a powerful tool, because it allows you to set your criteria at a granular level. You aren't purely looking at page visits, but behavior. For example, only targeting users with a certain session duration or users who reached a certain scroll depth on your landing page.
Here's more detail on how to create remarketing audiences.
Customer-related Data
Another area where Google Analytics 4 took a big leap is in the ways that you can view your data.
Think of it as the old "Behavior" tab on steroids. Now this data can be found under the newly-dubbed "Analysis Hub".
Now, you can easily create user segments or even drill down to individual users when looking at a path analysis, and that's just the tip of the iceberg.
There are 5 main types of data reports you can see:
Path analyis
The path analysis shows you the user journey from one page to the next and can help you identify pages where users are dropping off.
Another great thing about the updated path analysis is that you can now see actions rather than simply pages.
Cohort Analysis
The old user retention chart is still around in GA4, and has moved to the Analysis Hub as well. You can segment your user data, so if you want to know whether users who arrived on phones are likely to come return, you can.
Segment Overlap
Sometimes a picture speaks a thousand words. It can help to see how your segments overlap to inform your content and product decisions.
User Explorer
Sometimes looking at the user level can be useful for uncovering what motivated specific actions on your website. You may not be able to parse what triggered a conversion without looking at each step a specific user takes.
Smart Insights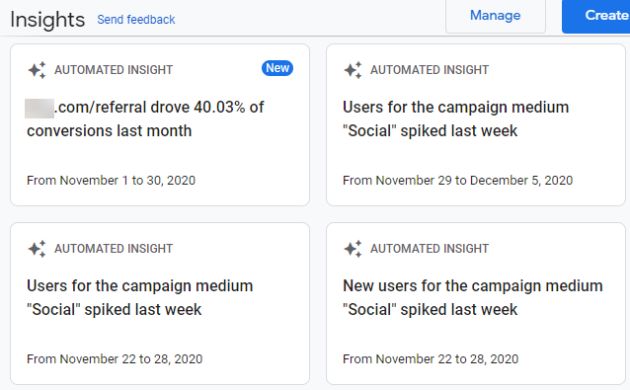 Smart Insights is a wonderful tool that keeps you informed about trends to keep an eye on. You can discover new or unusual traffic landing on your site that you can act on.
Small businesses would be well-served to get the most out of Smart Insights. Building custom insights lets the AI engine do the heavy lifting of finding the important bits of information and lets you get back to the business of running your business.
You can now set up custom insights for when specific metrics change within certain segments. So if you want to be alerted when your conversion rate increases, but only for social users?
There's an app for that.
In Conclusion
GA4 is a great way to take advantage of some advanced tools and metrics in 2021, and is especially useful for eCommerce and Small Business owners looking to prioritize user privacy while giving them more robust analysis tools and ads integration.
Give it a whirl, and let us know what you think in the comments!