So you've taken the plunge and started advertising on Facebook. Hundreds, maybe even thousands of dollars later, you have yet to make a sale. What happened?
The truth is, most ad campaigns fail, and they fail for a variety of reasons. Here are some of the top ones on our list:
1. Lack of message cohesiveness
Quite often, the message either does not match the ad, the image, or the landing page, leading to higher cost and fewer conversions.
2. Poor targeting
In addition, targets that are too broad or too narrow can really set you back. If your audience is too broad, you're putting your ads in front of the wrong audience. And as Facebook ads are better-suited to TOFU (top of funnel) marketing than BOFU (bottom of funnel) marketing, you're going to need to make sure not to niche yourself down so much that very few people see your products.
3. Not testing your ads
Most commonly, marketers and business owners post ads thinking that the Facebook algorithm will make them successful. You need to do a bit of groundwork, which includes A/B testing.
Measurement is the Key to Success
Key to #3 above, is measurement. Without it, you really don't know what to compare. I will give you one main item to watch ou for.
If I look at everyone who came through my ad and converted, what if I were able to break down the demographic data: Sex, age, and location, for example. If, for example, I discovered that most people who converted are men, aged 25-34.
Do you think I might be able to use that information to better target my ad?
Enter Google Analytics
Google Analytics is a tool that helps you understand who's on your pages, where they came from and how long they've been there.
A pilot wouldn't fly a plane without flight computers would he? And I would guess you wouldn't be on that plane if he did!
So don't "fly" your campaign without the help of your handy dashboard, that can tell you the things you need to know to get to the runway successfully.
Here are 5 simple steps to setting up campaign tracking:
1. Set Up Google Analytics
To get started, follow these simple steps:
Log into Google
Go to the Google Analytics landing page
Click "Sign Up"
Fill out the information under "New Account"
You will be assigned a "Tracking ID". Copy it.
The next step depends on how you manage your website. Most website builders allow you to add the tracking ID in the website's settings.
For Wix: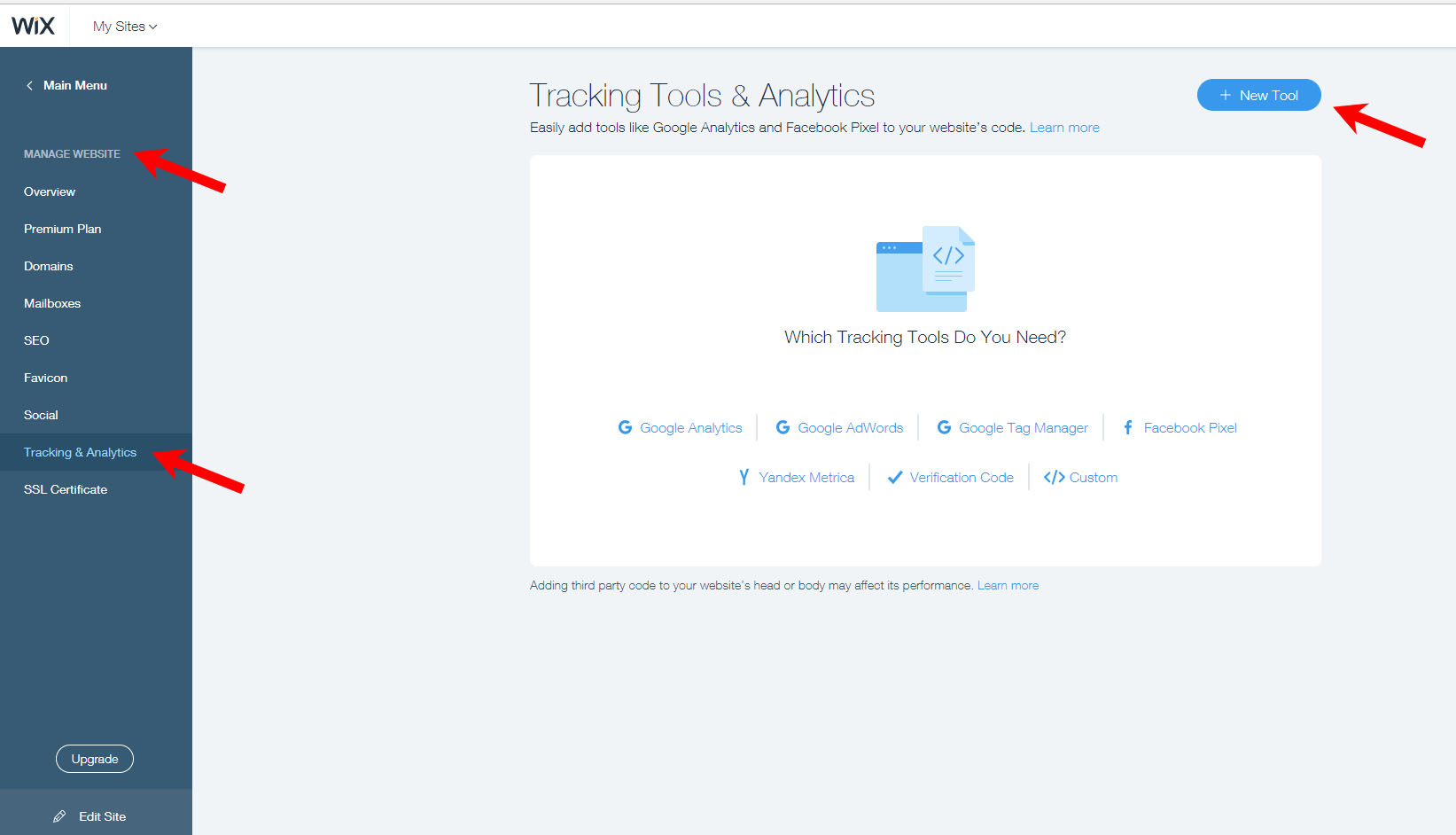 For Squarespace:
From your site dashboard, go to Settings
Click "Advanced"
Click "External API Keys" and enter your tracking ID here:
For WordPress:
Download the GA Google Analytics Plugin
Locate the plugin settings
Enter your Tracking ID
For Shopify:
In Preferences, find the Google Analytics account.
Insert the tracking code
Insert the Javascript snippet provided into the box
2. Set up your UTM Codes
You need to set up UTM codes, which are special codes appended to your campaign URLs so that Google Analytics can tag your traffic sources appropriately.
You can set up UTM codes here.
Fill in all the information and then copy the generated campaign URL. That's the URL you will use for your ad campaign.
Test your campaign URL to make sure that it is read correctly in your Analytics results the following day.
3. Set up Your Campaign Goals
For the next part, you're going to want to set up an audience that includes everyone who completed your campaign goal (conversion). Doing this will give you demographic and psychographic data that will allow you to adjust your audience and ad content to dial up your conversions.
To set up your campaign goals, go to Admin, then View, then Goals. Click "New Goal".
Set the goal based on what looks like a conversion on your website. For example, if you are selling a product, a successful purchase would be a conversion.
Note that Google Analytics can't by itself tell what actions people are taking on your pages, so Analytics won't be able to tell you that a person put an item in their cart and then bought that item. For that you would need Google Tag Manager.
But Analytics can tell you how many unique users ended on your Thank You page. So let's make that your goal.
4. Create a Segment
Now that your goal is set up, you should be able to make a segment, based on the completion of the goal, and based on your campaign ID.
If you tested your campaign link, you should easily be able to set up your segment.
Here's how you set it up:
5. Generate a Report
Finally, we generate a report that you can use to learn who's converting on your website. Go to the "custom reports" section of your website, and create the following 4 tabs:
Make sure you select "User" under "Metric Group" and "Age", "Gender", etc. as the "Dimension Drilldown".
You can create a second report for psychographic information, such as interests.
Now you will be able to see detailed roadmaps of who's converting on your landing page by demographic information such as age and gender:
As well as by purchasing habits and likes:
Using this type of information, you can gain key learnings about who is converting on your website, and this can give you powerful ammunition when you decide to put real money behind your campaigns.
These steps are just a taste of what Google Analytics has to offer, but putting the effort into it in the early going can turn a lackluster campaign into a hugely successful one.
Sign up with eBiz Marketing Academy for weekly tips, challenges, and webinars.